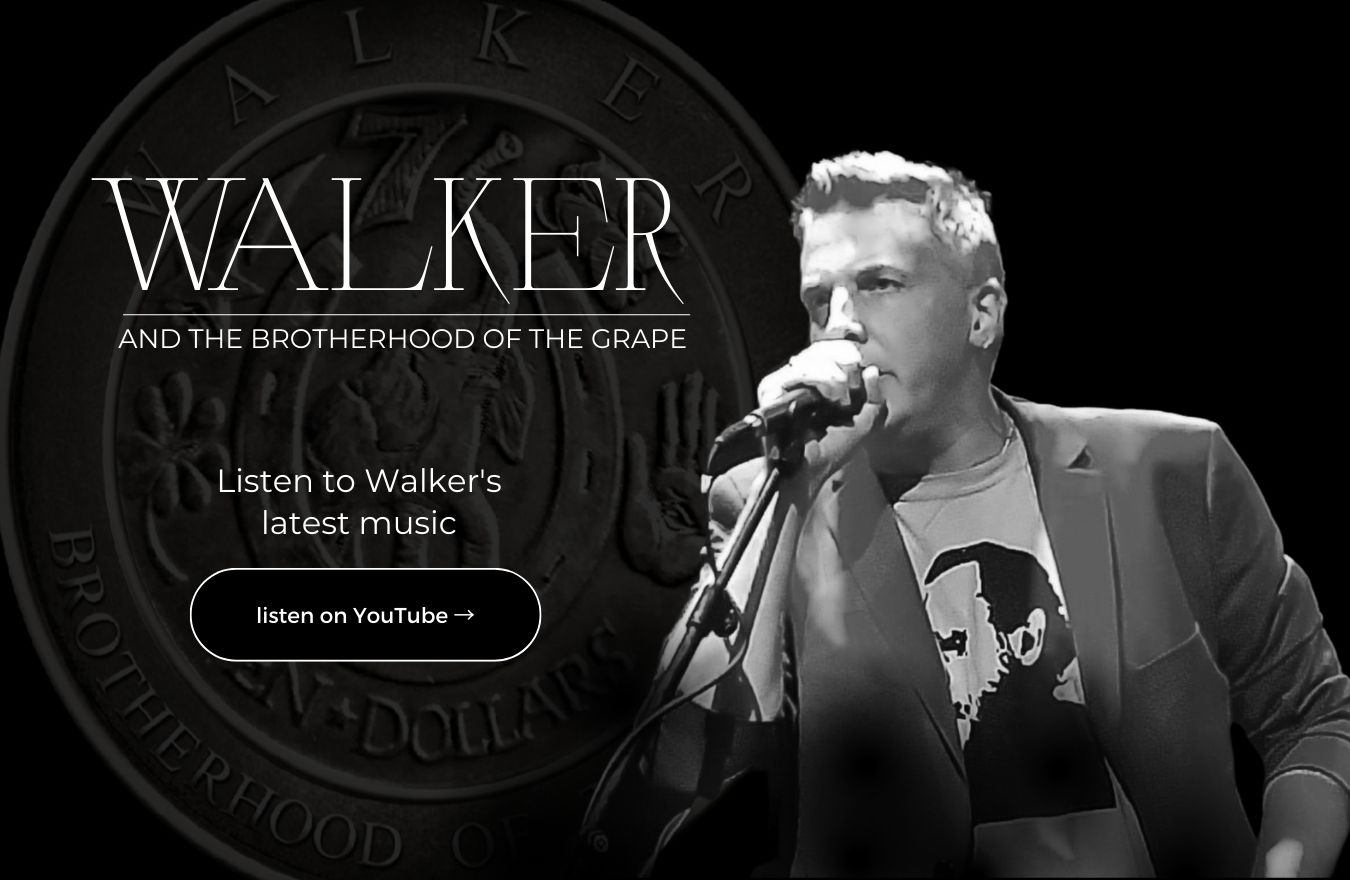 Walker Hornung and The Brotherhood of the Grape. Walker, along with the band Q-South, got his start introducing New York City to a new sound: rock attacked by flamenco guitars. His songwriting in Q-South created the timeless 1997 self-titled release, along with a string of unforgettable performances across Manhattan and the wider U.S. His search for different styles also led him to collaborations with Soca sensations Machel Montano, Alison Hinds, and Bunji Garlin, and the Caribbean provided a brand new garden for Walker's blend of rock and soca to take root. In 1998 the flipside of the groundbreaking duet "With or Without You" was backed by what is considered The first Soca/Rock song ever called "The Sky is Falling"
A string of hits later, and a few years after the debut release of Q-South, The Brotherhood of the Grape was assembled. The whole musical journey was recorded in the album Almost Homeless (2002), which was followed by Bar-Humbug (2003) and The One and Lonely (2005) Dive Deep Down (2016). These releases, along with Hornung's albums Soca and Me (2008) Songs from the Old Neighborhood (2010), and Q-South Live @ C.B.G.B's (2011) Greetings From South Queens (2012) The King's Heartbeat (2013) Q-South The Bukowski tribute Concert 3/11/94 at The Grand NYC (2023) are all available on Into the Whip Records.
In 2013 Walker and producer Kooly Chat formed The King's Heartbeat a blend of Rock/Reggae and Soca with B.M.W.A, Luci Emm and Walker all sharing vocal duties...The band is finally the perfect vehicle for all the genre's from the previous years...Check out The King's Heartbeat.
The Brotherhood of the Grape's 2016 release "Dive Deep Down" was supprted by a slew of dates in 2017. In January of 2017 Walker,Rjae Ism and Ed "The Ace" Klinger unveiled thier avante garde work entitled "The Great Silence of Outer Space". 2020 ends with the release of "A Sacred Thing" by The Brotherhood of the Grape. 2021 ends with a work in entitled "The Bee Keeper" with the title track featuring Gerry Leonard(Bowie/S.Vega)... 2023 is loaded with shows beginning with a UK/Ireland tour in support of Glen Matlock/Clem Burke in March of 2023 and the release of "Euphoria" a brand new Brotherhood album in the trio format including RJ and EJ..stay tuned -Jim Maguire Into The Whip records
Band Members
Current Line-up in The Brotherhood of the Grape
Walker Hornung: Vocals/Guitar
Eddy Joe McCabe: Bass